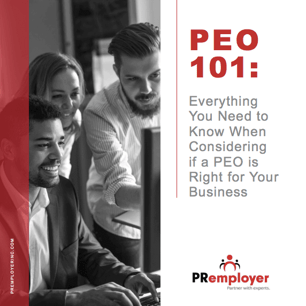 There are so many options available to you as you search for the perfect PEO. It can be hard to know what is the best solution for your company. To help, we have created an eBook, which discusses factors to narrow down your choices and zero in on a suitable partner.
When your PEO's level of service, expertise and experience matches your expectations, you can provide your employees with the highest level of HR support. It can also ensure that you remain competitive in your industry as partnering with a PEO can help attract and retain top employees. Furthermore, the co-employment arrangement can support your business growth by reducing overhead without impacting your operations.
Check out our eBook and decide if a PEO is right for your business. Now is the time to begin promoting the growth of your business – and your annual revenues!
Complete the form to get your copy today!