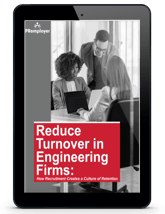 High turnover is a significant cost to businesses of all types. Having the right recruitment strategy can help.
Not only is choosing the right employees in the first place key, but you need to leave a positive impression on candidates right from the start
Download our newest eBook to learn more about:
Why engineering firms need to lower turnover
The relationship between recruitment and turnover
A 6-step plan to improve your recruitment strategy
And more!
Fill out this form to get your FREE copy of the eBook >>