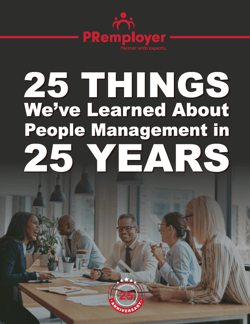 PRemployer was established 20 years ago to help small- and medium-sized businesses improve their human resource strategies and functions. Since 1999, the PRemployer team has worked to supply clients in diverse industries with top-notch human resources services, expert advice, and unparalleled support and service. In fact, we have spent the past two decades serving nearly 5,500 employees across 26 states in sectors such as medical, nonprofit, manufacturing and retail.
Even as the industry has evolved to cultivate a robust, superior workforce, we have equally progressed to provide our clients with modern solutions. We have gained meaningful insight and learned several lessons that contribute to the company's sustained growth and success. In this eBook, our staff of HR experts offers 20 of the most important things we have learned about employment services and personnel management since 1999.
Complete the form to learn more and get a copy of our eBook!